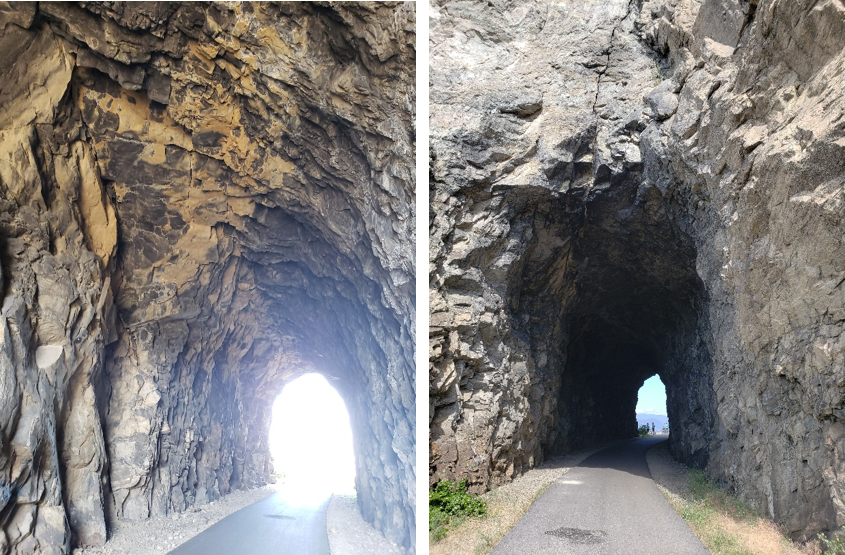 Today I rode 36km up the Kettle Valley Rail Trail for CMHA's Ride Don't Hide. This is the 3rd time I've done the ride but the first time I went the full distance to the Little Tunnel. As I was approaching the tunnel it occurred to me how much like a tunnel depression is. It's dark, it's cold, it's dank. However, a tunnel has light at both ends of it. As I was approaching it I was reminded of how many times I could see depression coming, like the approaching tunnel, and feared it. It still scares me, but not as much as it used to. Sometimes you have to go through the tunnel to the other side, sometimes it makes more sense to just turn around and go a different direction. Sometimes it seems like the right choice to try and go around or climb over top to the other side. This is much harder and dangerous. Sometimes you can't see the light at the other end and you just have to trust that moving forward, one painful, aching step at a time, dragging what feels like a 1000-pound weight behind you will get you to the other side. Sometimes you just can't make it to the other side and you need to sit down for awhile in the dark, or turn around back to the light you know. The light is brighter on the other side. If you look closely you'll see other people on the other side, they're looking forward to seeing you! The more times you go through the tunnel, the less scary it is. In fact, there's light on both ends, there's nothing to be afraid of. You can run through it quickly knowing what's on the other side; it doesn't have to be a long trip. In fact, why not just run back and forth through it several times, get familiar with it. Eventually it's just a small moment of darkness that you don't notice. You can look over your shoulder and say "Hey, that happened, remember when it used to be much harder?". After awhile, you might seek out the tunnel, explore it, understand it, notice the good parts, the cracks and fissures, the blast marks, how hard must it have been for the tunnel to be built? Why was it built?  Blasting a way through is better than being stuck at an impassable stone mountain.
If you look around, you'll see other people in the same tunnel. Some of them don't even know they're in it, wandering around in the dark. I know I didn't notice for a long time. Gently grab a hand if they're willing and help them find a way through, or maybe just sit in the darkness for awhile and talk about the things there are to appreciate.
I sometimes question all the sharing that is happening, because feeling the pain of someone else can trigger depression, but on the other hand, knowing that you're not the only one that feels the way you do is worth it.
From the time I got hit with the flu in early January, compounded by some personal challenges, I've been trying to get through the tunnel again. I went from being confident in every aspect of my life, to not. It's been difficult especially when I was leading a community changing initiative while my business was growing extremely fast and had constant challenges that at times overshadowed the amazing successes. I get told so often how inspiring I am and thanked so often I 'should' be on top of the world. Everything I've been working towards is happening, and I do appreciate all of it on the good days.
Keith MacIntyre wrote this following our annual fundraiser and awareness event, Ride Don't Hide in June 2018. Keith led the Penticton Smart Cities Challenge and his company, Big Bear Software Inc., was named the 2018 Okanagan Tech Company of the Year. We are thankful for him and so many others who champion mental health with us!