Location Map:
November 19, 2018 to November 20, 2018
9:00 am to 5:00 am
Penticton Community Centre
325 Power St
Penticton, British Columbia
V2A 7K9

Add to Calendar (iCal) Add to Google Calendar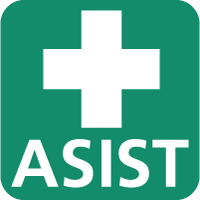 ASIST is a two-day interactive workshop in suicide first-aid. ASIST teaches participants to recognize when someone may be at risk of suicide and work with them to create a plan that will support their immediate safety. Ages 16+
You can register directly through City of Penticton Recreation
LEARNING OBJECTIVES
Understand the ways that personal and societal attitudes affect views on suicide and interventions
Provide guidance and suicide first aid to a person at risk in ways that meet their individual safety needs
Identify the key elements of an effective suicide safety plan and the actions required to implement it
Appreciate the value of improving and integrating suicide prevention resources in the community at large
Recognize other important aspects of suicide prevention including life-promotion and self-care.